Full - Service Packaging and Shipping
Warehouse & Inventory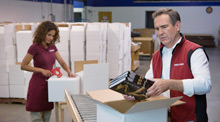 Let Pak Mail of Battle Creek serve as your moving, storage, receiving and warehousing service. Our professionals will receive, inventory, and fulfill important product shipments or orders on a one-time or recurring basis. In addition, we will warehouse items for the short and long term and provide you with regular status reports.
Pak Mail of Battle Creek fulfills all your moving, storage and warehouse needs.
Request a Free Online Estimate or call us at 269-660-1985

Pak Mail of Battle Creek

ADDRESS:
30 E. Columbia Ave., Ste F-1
Battle Creek, MI 49015
PHONE NUMBER:
269-660-1985
EMAIL:
ship@pakmailbc.com
FAX:
269-660-1987
Hours of Operation:
Mon - Fri
9:00 am - 6:00 pm
Saturday
10:00 am - 1:00 pm
Sunday
Closed

Proudly serving Battle Creek, Marshall, Kalamazoo, Portage, Coldwater, Charlotte, Richland, Hastings, Galesburg, Union City and all surrounding areas...