Full - Service Packaging and Shipping
Freight Broker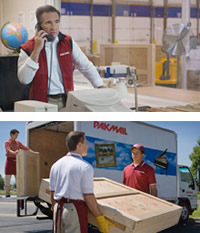 Pak Mail's Worldwide Logistics Division serves as a comprehensive freight broker for your large freight shipping. We source and coordinate all freight shipping services involved in global shipping.
Our freight agents locate qualified air, ground, and ocean cargo carriers with proper coverage and licensing, negotiate preferred freight shipping rates, and manage the process from initial pick up through final delivery.
As professional freight brokers, we manage the documentation for all customs clearance and delivery and work to identify duties, taxes, and other charges to expedite shipments and avoid penalties.
We also serve as a single point of contact for importing/exporting and drop-ship options from international destinations.
We provide efficient, competitive, and reliable transportation brokerage services with sole-source responsibility.
Request a Free Online Estimate or call us at 269-660-1985

Pak Mail of Battle Creek

ADDRESS:
30 E. Columbia Ave., Ste F-1
Battle Creek, MI 49015
PHONE NUMBER:
269-660-1985
EMAIL:
ship@pakmailbc.com
FAX:
269-660-1987
Hours of Operation:
Mon - Fri
9:00 am - 6:00 pm
Saturday
10:00 am - 1:00 pm
Sunday
Closed

Proudly serving Battle Creek, Marshall, Kalamazoo, Portage, Coldwater, Charlotte, Richland, Hastings, Galesburg, Union City and all surrounding areas...