Full - Service Packaging and Shipping
Perishables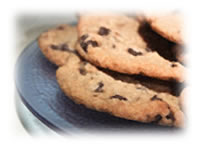 Need to send some fresh home-grown corn to Alaska? Or how about sending Bob his favorite cheesecake? Pak Mail of Battle Creek can make it happen. We are up to the challenge for packaging and shipping anything perishable so it arrives as tasty as the day it was shipped.
Don't worry about packaging. We have styro-foam packaging material for any size box needed. So go ahead, make Grandma's Gingerbread Cake and bring it to us. We'll make sure gets there for that special taste of home.
At Pak Mail, we want your delectable morsel to arrive fresh so here are a few tips to consider:
It is best to ship perishables, such as baked goods, meat or fruit, on Monday, Tuesday or Wednesday during the holiday season.
Whenever possible, ship perishables for next-day delivery to minimize time in transit. Avoid shipping perishables on a Thursday or Friday, or else the package may suffer extreme temperatures for as many as four days.
Keep items refrigerated or frozen until just prior to bringing it in to Pak Mail. Bring in a few frozen gel packs with the goodies to keep them cool. We may be able to place the item in our in-store refrigerator for storage until courier pick-up.
Freeze cakes, including cheesecakes and layer cakes, before shipping to keep it solid. Wrap the frozen cake in plastic wrap and then in aluminum foil to help keep it cold.
Despite precautions, icing may smear and decorations may become crushed in transit.
Place individually wrapped cookies on a strong paper plate.
Request a Free Online Estimate or call us at 269-660-1985

Pak Mail of Battle Creek

ADDRESS:
30 E. Columbia Ave., Ste F-1
Battle Creek, MI 49015
PHONE NUMBER:
269-660-1985
EMAIL:
ship@pakmailbc.com
FAX:
269-660-1987
Hours of Operation:
Mon - Fri
9:00 am - 6:00 pm
Saturday
10:00 am - 1:00 pm
Sunday
Closed

Proudly serving Battle Creek, Marshall, Kalamazoo, Portage, Coldwater, Charlotte, Richland, Hastings, Galesburg, Union City and all surrounding areas...