Full - Service Packaging and Shipping
Travel & Luggage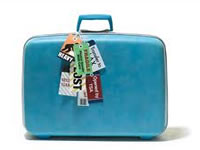 On going changes in airline travel are making things more challenging than ever for passengers. The changes in carry-on limits, checked baggage, and security may be causing you unnecessary aggravation… adding to the time it takes to clear security and locate and collect your baggage at your destination.

Do any of these apply to your travel?
Too many bags to check.
Too large an item to check.
Items too heavy to manage.
Want travel to be easier.
Taking something fragile or valuable.
Don't want someone going through your personal items.
Bringing your golf clubs, skis, or snorkel gear.
Want to put value coverage on your items.
We can ship luggage from Battle Creek ahead to your destination. We can also give you return labels, so that your luggage can be shipped home when your trip is over. It is easy, convenient, and secure.
Pak Mail of Battle Creek takes the "lug" out of luggage! Contact us.
Request a Free Online Estimate or call us at 269-660-1985

Pak Mail of Battle Creek

ADDRESS:
30 E. Columbia Ave., Ste F-1
Battle Creek, MI 49015
PHONE NUMBER:
269-660-1985
EMAIL:
ship@pakmailbc.com
FAX:
269-660-1987
Hours of Operation:
Mon - Fri
9:00 am - 6:00 pm
Saturday
10:00 am - 1:00 pm
Sunday
Closed

Proudly serving Battle Creek, Marshall, Kalamazoo, Portage, Coldwater, Charlotte, Richland, Hastings, Galesburg, Union City and all surrounding areas...