Full - Service Packaging and Shipping
Mailbox Rental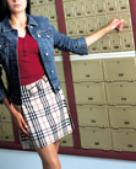 Wouldn't it be nice to have a single, reliable address for all your mail and packages? An address in Battle Creek that offers privacy and security with a full-time professional to sign for registered mail and deliveries? Discover the convenience of our mailboxes and more at Pak Mail of Battle Creek.
Whether you're a single individual or small business, Pak Mail offers private mailboxes in three different sizes with an array of customer benefits. First and foremost, you and your mail will always be secure. You are the only one with a key to your box, located safely inside a Pak Mail location. And, unlike other mailbox services, you can receive deliveries from UPS, FedEx, overnight deliveries, and certified mail here.
Request a Free Online Estimate or call us at 269-660-1985

Pak Mail of Battle Creek

ADDRESS:
30 E. Columbia Ave., Ste F-1
Battle Creek, MI 49015
PHONE NUMBER:
269-660-1985
EMAIL:
ship@pakmailbc.com
FAX:
269-660-1987
Hours of Operation:
Mon - Fri
9:00 am - 6:00 pm
Saturday
10:00 am - 1:00 pm
Sunday
Closed

Proudly serving Battle Creek, Marshall, Kalamazoo, Portage, Coldwater, Charlotte, Richland, Hastings, Galesburg, Union City and all surrounding areas...