Full - Service Packaging and Shipping
Furniture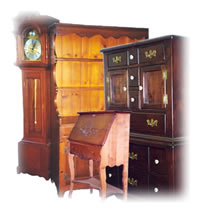 We ship furniture that's boxed or unboxed, we ship furniture that's brand new, and we ship furniture that's been in the family for generations. We ship antiques, items sold on eBay, you name it - if you need to ship furniture, call Pak Mail of Battle Creek.
Pak Mail is ideal for those who need to send just one or two pieces of furniture; too small for a moving company to handle but just right for Pak Mail. Our personal approach means that we clearly explain your shipping options to give you the best value for your situation.
We can get furniture from here to there overnight or slower and more economical options depending on what you need so you get the best service.
Blanket Wrap Service:
Easiest for you,
Door to door inside pick-up and delivery,
Less packaging required,
Small number of transfers and more gentle transport,
Rates based on dimensions,
4-8 week delivery options.
Freight Carrier:
Major carriers such as Roadway and ABF,
Residential outside delivery,
Requires palletizing and packaging,
Economical rates based on weight,
1 week delivery continental U.S.
Air Freight:
Typically the fastest of all the freight services,
Requires packaging,
Best for shipments that are:

Time-critical
Especially valuable
Especially fragile
Examples include but are not limited to: electronics, art, sculptures, and small furniture pieces.
Request a Free Online Estimate or call us at 269-660-1985

Pak Mail of Battle Creek

ADDRESS:
30 E. Columbia Ave., Ste F-1
Battle Creek, MI 49015
PHONE NUMBER:
269-660-1985
EMAIL:
ship@pakmailbc.com
FAX:
269-660-1987
Hours of Operation:
Mon - Fri
9:00 am - 6:00 pm
Saturday
10:00 am - 1:00 pm
Sunday
Closed

Proudly serving Battle Creek, Marshall, Kalamazoo, Portage, Coldwater, Charlotte, Richland, Hastings, Galesburg, Union City and all surrounding areas...