Full - Service Packaging and Shipping
Specialty Freight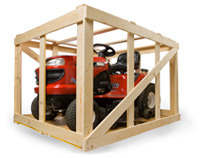 Pak Mail of Battle Creek offers innovative solutions for specialty freight challenges. We pack, crate, and ship, art, machinery, antiques, furniture, and equipment all over the world. Our specialists will provide consultation on the most efficient, time-sensitive, and cost-effective manner to pack and ship your specialty freight worldwide.
Pak Mail of Battle Creek offers the following packing and shipping services:
Custom crate and container construction
Auction items, art, and antiques
Industrial, aerospace, and medical shipping
Estate and moving services
Temperature-controlled rail cars and trucks
Government/military packing and shipping
Institutional/educational packing and shipping
Corporate relocation
Shipment consolidation and multi-locale distribution
Request a Free Online Estimate or call us at 269-660-1985

Pak Mail of Battle Creek

ADDRESS:
30 E. Columbia Ave., Ste F-1
Battle Creek, MI 49015
PHONE NUMBER:
269-660-1985
EMAIL:
ship@pakmailbc.com
FAX:
269-660-1987
Hours of Operation:
Mon - Fri
9:00 am - 6:00 pm
Saturday
10:00 am - 1:00 pm
Sunday
Closed

Proudly serving Battle Creek, Marshall, Kalamazoo, Portage, Coldwater, Charlotte, Richland, Hastings, Galesburg, Union City and all surrounding areas...