Full - Service Packaging and Shipping
Crating & Packing Expertise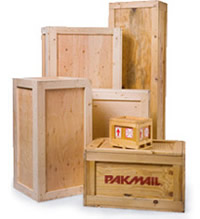 Pak Mail of Battle Creek offers custom crating and custom shipping for heavy, oversized, and fragile items, including machinery and industrial equipment. Our certified packing experts utilize state-of-the-art packing and custom crating processes to protect valuables during shipping.
We consider the item's fragility, composition, and value to determine the best packing methods.
We use prefabricated boxes, design and build one-of-a-kind wood crates and corrugated fiber-board containers.
We use appropriate packing materials to ensure protection during transportation.
Our custom shipping experts also secure shipments with pallets or skids to provide additional stability and handling.
Request a Free Online Estimate or call us at 269-660-1985

Pak Mail of Battle Creek

ADDRESS:
30 E. Columbia Ave., Ste F-1
Battle Creek, MI 49015
PHONE NUMBER:
269-660-1985
EMAIL:
ship@pakmailbc.com
FAX:
269-660-1987
Hours of Operation:
Mon - Fri
9:00 am - 6:00 pm
Saturday
10:00 am - 1:00 pm
Sunday
Closed

Proudly serving Battle Creek, Marshall, Kalamazoo, Portage, Coldwater, Charlotte, Richland, Hastings, Galesburg, Union City and all surrounding areas...