Full - Service Packaging and Shipping
Road & Rail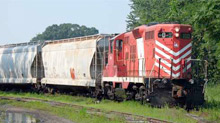 From one side of the country to the other or from city to city, we can handle large shipments with ease. Through our established network we will ensure the job is completed at a fair market price in a timely manner.
We manage local, regional, and long-haul oversized, LTL, and full-truckload shipments with effectiveness and efficiency.
Palletizing, crating, packaging and stretch wrapping services available.
Major carriers such as ABF, YRC, Estes and many others.
There are no size or weight limitations, economical rates.
Residential & commercial delivery.
We utilize direct services to minimize potential for damage and to expedite time in transit
We offer domestic cargo coverage and full-service logistics and tracking to ensure convenient container freight, motor freight and rail freight delivery with a minimum of handling.
Request a Free Online Estimate or call us at 269-660-1985

Pak Mail of Battle Creek

ADDRESS:
30 E. Columbia Ave., Ste F-1
Battle Creek, MI 49015
PHONE NUMBER:
269-660-1985
EMAIL:
ship@pakmailbc.com
FAX:
269-660-1987
Hours of Operation:
Mon - Fri
9:00 am - 6:00 pm
Saturday
10:00 am - 1:00 pm
Sunday
Closed

Proudly serving Battle Creek, Marshall, Kalamazoo, Portage, Coldwater, Charlotte, Richland, Hastings, Galesburg, Union City and all surrounding areas...